3 Best Chess Storage Boxes For Chess Pieces
People use all manner of storage for their chess boards and pieces. Bags, quivers, slings, and boxes all make regular appearances at tournaments and chess clubs. For our money, a good chess storage box is the best option to keep your pieces safe and looking snazzy.
Wooden chess sets that look like art should be put in boxes that look like art, right?
Sure, they're a little more expensive, and your chessboard isn't going to fit, but you won't regret getting your hands on a good-looking box.
Fortunately, you don't have to look far. We put together a selection of storage boxes that'll surely change your mind about using a baggy.
Top 3 Chess Set Storage Boxes (Our Review)
Leatherette Coffer Box (Royal Chess Mall)
When it's closed this coffer box looks both intimidating and professional. Inside you'll find felted walls and fitted spaces to sort your chess pieces. High-quality cloth prevents the pieces from getting damaged as they roll around.
The leatherette coffer box can accommodate chess sets between 3.5 and 4.1 inches. Fitting chess pieces are held firm by the trays' specially fitted pockets.
The selection of material inside the box makes any chess set look premium whether it's made of plastic, wood, or glass.
Admittedly, the fake leather does somewhat diminish the elegance of the box, but it's a small price to pay to keep the storage box vegetarian and vegan-friendly. It won't last as long as genuine leather either, and it may crack after time.
It'll endure a couple of years before it begins to wear down, though, which doesn't disqualify it for being used as storage for your chess pieces.
Pros
Includes lock and key
Specially fitted pockets
Quality fabric and cloth
Trays for each army
Good for chess storage
Cons
Imitation leather
Expensive
This slide-top chess box by House of Staunton is suitable for any chess set between 3 and 4.4 inches tall. The design utilizes divided boxes to keep your chess pieces separate so you can set up a game with ease.
Built into the box is green velour lining and includes cushions of the same color that are removable.
As its name suggests, the lid slides open, which makes getting to your pieces convenient. There's no lock, so it's best to use this storage box at home where it can be kept safely.
At around $80, not the cheapest option. It is the House of Staunton, though, so you know you're getting a high-quality product from a reputable supplier.
In the end, the wood and velour give it a premium feel while keeping your chess pieces safely stored in a fantastic-looking case.
Pros
Suitable for most chess sizes
Can store two extra queens
Compact dimensions
Quality build material
Cons
No additional safety measures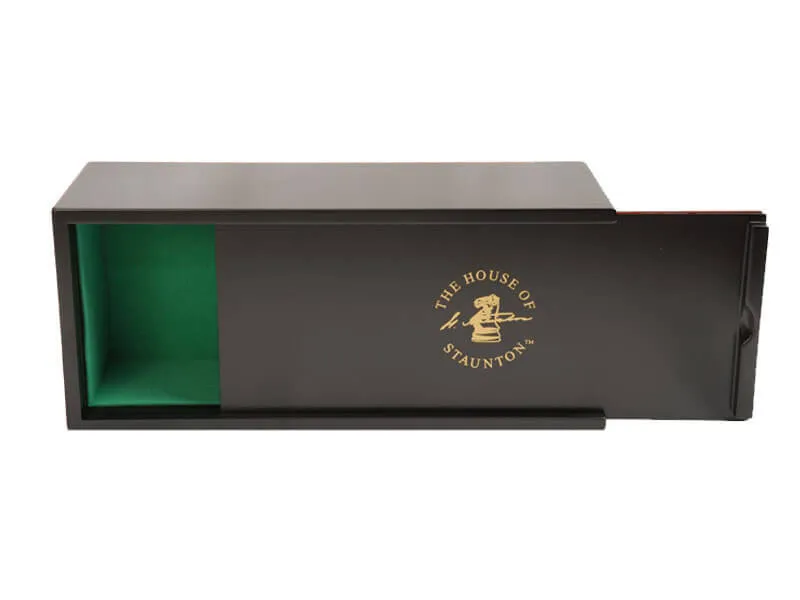 Black Slide-top Chess Box
The Slide Top Chess Box is the most economical way to protect your chessmen. It comes w… [More]
Sale: $49.95
Walnut Chess Box with Green Baize Lining (The Chess Store)
This is one of those chess boxes that feels like it was taken straight out of Victorian England.
We're not saying that as a bad thing: It's a timeless look.
The Chess Store Walnut chess box is as sturdy as it looks and has a lock. It's a good feature if you're worried about losing a chess piece or two. Chess pieces tend to go missing faster than borrowed pens. Or socks.
The walnut is light which is a nice change from the often oppressively dark woods used for these kinds of boxes. It's finished with a coat of satin polyurethane to give it a shiny gloss.
It's quite plain overall, but the neutral appearance means it will go well in almost any space.
The emerald-green baize interior is close in texture to felt, but more coarse. It also has a divider for keeping the chess pieces sorted by their respective color.
The bottom of the wooden box is covered with black felt to protect any surface you put the box on.
Boxes like this one add a certain level of charm to the chess set you're using. What takes away from that charm is the eyewatering price tag of around $100.
Pros
Stores most chess pieces
Features a lock and key
Plain design
Cons
Related Posts